Am liebsten würde ich den ganzen Tag im Bett liegen und nichts tun. Nach dem ganzen Zügelstress, den ich in den letzten Tagen hatte, wäre dies wirklich keine schlechte Idee. Wobei ich zugeben muss, dass ich selber schuld war und immer noch bin. Ich habe mir viel zu wenig Gedanken über den Umzug gemacht und hatte auch überhaupt keinen Plan, mit was ich beginne und was ich vielleicht lieber erst später auspacken sollte. Wie so oft habe ich das aber jetzt bemerkt und wenn ich die Zeit zurückdrehen könnte, würde ich Einiges anders machen. Auf jeden Fall sieht es zurzeit noch so aus, als hätte eine Bombe in meinem Zimmer eingeschlagen. Aber pssst. Ich werde aufräumen… Versprochen 😉 Alles zu seiner Zeit. Als ich zuletzt an diesem Beitrag geschrieben habe war ich noch arbeiten, mittlerweile hat mich die Grippe erwischt und ich liege im Bettchen. So wie von mir ersehnt. Was für ein Pech. Einige meiner Liebsten sind leider auch Krank geworden, ihnen und allen anderen da draussen, die ebenfalls im Bett liegen, wünsche ich Gute Besserung! Viel Tee trinken und dann wird das schon wieder 😉
___________
Lazy me, I am absolutely in the mood to stay in bed all day long. The past few days were very stressful because it is not that easy to do your daily work till late in the evening and in the same time to move out without having any plans! If I could turn back the time I would definitely make some plans first and then start to move out step by step. So the whole move would not end in a big, very big mess. Hehe. – At the moment my room looks like after an explosion. But psss. I really need to clean up. Sadly my wish to stay in bed all day long came true and I am in bed because I am sick. I heard that a lot of my friends also are in bed and I hope you all get well soon! Do not forget to drink a lot of tea! It's the best thing!
Wie auch immer, lasst uns über Fashion sprechen. Jeden Tag wird es wärmer und wärmer und ich kann schon fast den Frühling spüren. Oke, nein, das war eine kleine Lüge, aber der Frühling kommt immer näher. Den ganzen Winter über habe ich mich total in die Kombination Grau und Leder verliebt, dabei spielte es gar keine Rolle, ob es ein Kleid, eine Hose oder ein Blazer war. Ich mag diese Kombi einfach unheimlich gerne. Ein Beispiel zeige ich euch in diesem Post hier, mit meinem Lederglockenrock und meinem Rollkragenpulli. Es ist eine perfekte Kombi um einen sehr modischen und doch recht schicken  Look zu kreieren. Ihr könnt diesen Look wunderbar an einem Anlass tragen, an dem ihr richtig speziell aussehen wollt. Seid einfach offen für neue Looks, ich werde euch garantieren, dass ihr den Look an euch selber lieben werdet.
___________
Anyway let's talk about fashion. Every day it is getting warmer and warmer. I already can feel spring… Okay well that is a little lie but spring is coming closer. I do not know why but the whole winter I was fascinated by the combination of grey cloths with leather. I do not care if it is a dress, pant or blazer, I just like the whole combination you can do with those two pieces. For example today I will show you a combination with leather a line skirt and my grey turtleneck. It is a good way to create a very fashionable but still classy look which you can wear on a special event. It also tent to a look that you can wear when it is cold for example with tights and nice boots and also when it is getting warmer without tights and beautiful pumps. Just be creative and find your own way to wear it.

Zum Schluss noch ein paar Worte zum Make-up: Ich habe einen sehr starken Lidstrich gezeichnet und mit einem feinen, pinken Lippenstift abgerundet. Ich finde, es gibt dem doch recht strengen Look eine feinen Touch.  So, nun wünsche ich euch einen angenehmen Abend! Bitte lasst doch einen Kommentar da, wie ihr das Outfit findet.  Bis zum nächsten Fashionpost in Liebe eure Monika.
___________
I finished the look  with a black eyeliner and soft pink lips. Do not use to much make up, otherwise you will lose the fine, girly touch. So now I wish you a beautiful day! I am excited to hear what you think about my outfit and looking forward to the next fashionpost!
Kisses your M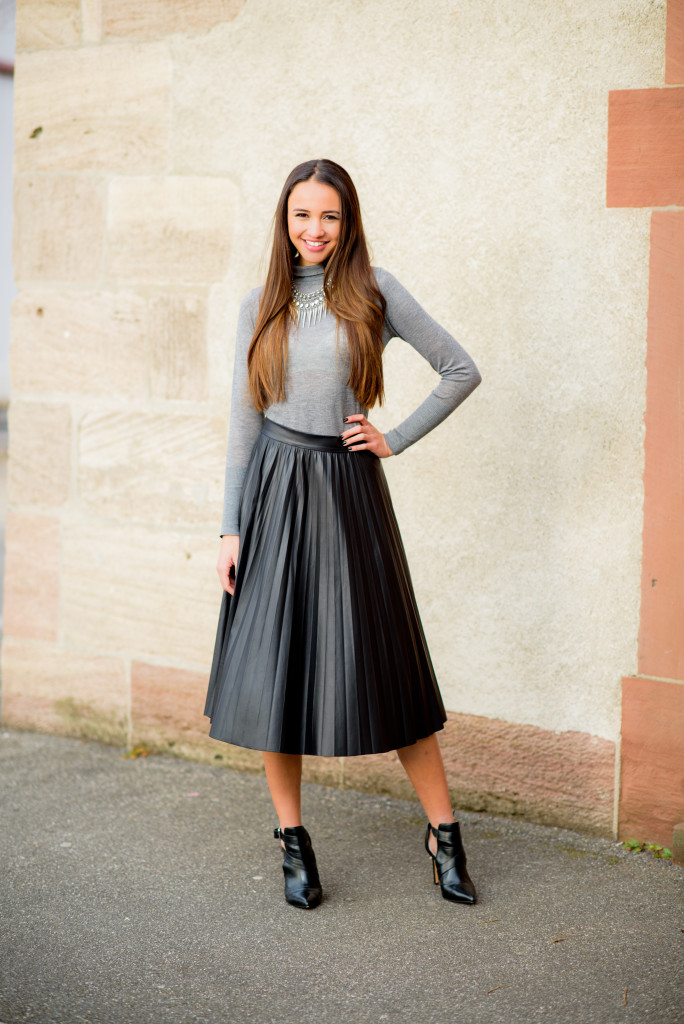 Eyeliner Maybeline
Lipstick Essence
Necklace Shein
Pullover Zara
Aline Skirt Zara similiar at Shein
Shoes Zara